About Tmall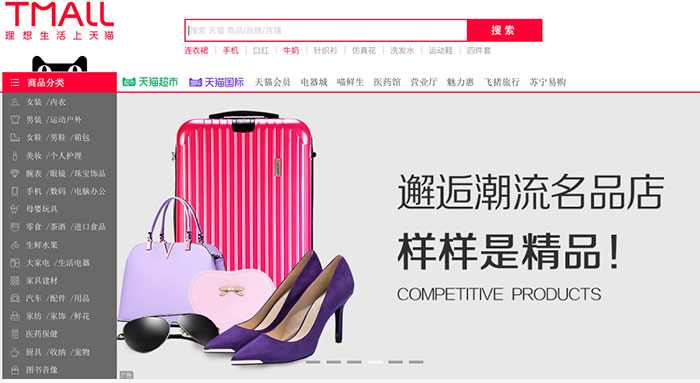 Tmall is a B2C e-commerce platform, owned by Alibaba Group. It was originally extended from Taobao and called Taobao Mall, renamed to Tmall in January 2012.
Tmall is an extension of Taobao marketplace, focusing on brand products. Individuals and companies without a recognized brand can only open a store on Taobao. For companies outside China, Tmall Global is the sub-platform for cross-border e-commerce sales.
On November 11 2012, the Double 11 promotion on Tmall and Taobao attracted 147 million unique visitors and 30 million users to purchase, and the number of transactions hit 100 million.
It integrates thousands of brands and manufacturers to provide a one-stop solution between merchants and consumers. Tmall provides 100% quality assurance products, 7 days return, and the after-sales service, as well as other quality services for shoppers.
Tmall has become a key channel for some of the top global brands to launch new products.
Alibaba rolled out a new premium "88 VIP" membership package in August 2018 for both Taobao and Tmall customers that will offer exclusive benefits to members across the Alibaba ecosystem covering commerce, entertainment and local services.
Tmall Stores
To open a store on Tmall, the merchant must have a legal business entity in mainland China and the products must be located in China. Tmall offers merchants three types of stores: Tmall Flagship Store, Tmall Authorized Store, and Tmall Specialty Store.
Tmall Flagship Store. Merchant is the brand (trademark) owner or possesses exclusive authorization from the brand owner when opening their store on Tmall.com.
Required documents for application:
Copy of business license in mainland China
Copy of corporate tax registration certificate
Copy of organization code certificateCopy of bank account permitsCopy of legal representative ID card or passport for foreign owners
Trademark registration from state trademark association
Alipay corporate account authorization
Complete product list
Tmall Authorized Store. Merchant holds authorization documents from the brand owner to open a store on Tmall.com. The store is authorized to sell products from one brand or multiple brands, but all brands belong to the same entity.
Tmall Specialty Stores. Merchants sell products of two or more brands that belong to the same product category. The store can sell products from two or more brands that the merchant does or does not own.
Order must be shipped and traceable within 72 hours of order placement on Tmall. And, buyers on Tmall have the option to return the product for a refund, no questions asked, within 7 days of receiving the product.
Tmall Fee
Opening and operating a Tmall requires the following fees:
Security deposit. Merchants need to deposit 50,000 to 150,000 yuan depending on the types of Tmall stores and product categories. "Medical" requires the highest of 300,000 yuan. You can only get it back when you terminate your store.
Annual Technology and Service Fee. You pay this annually. It costs either 30,000 or 60,000 yuan depending on the product category. Merchants may get 50% or 100% of this fee back if they perform well in seller rating and annual sales.
In addition, Tmall charges a small commission fee 0.5-5% based on the category of the product sold.
CIW Subscribers can download Tmall Fee Guide here.
Tmall Platforms
Tmall has set up several platforms targeting different online shopper segments.
 Tmall Global: Cross-border import e-commerce platform. Brands with overseas licences without business operations in China can consider getting listed on Tmall Global.
Tmall World: Cross-border export e-commerce platform targeting overseas Chinese.
Tmall vs. Tmall Global
Tmall Global is Tmall's import cross-border e-commerce platforms allowing Chinese consumers to buy directly from overseas merchants.
Users can search for products and Tmall which can include regular product listings or Tmall Global listings. If a user searches on Tmall Global, he would only see Tmall Global products.
Download Tmall Global guide. Or, find out more about China's cross-border e-commerce .
Alibaba announced in March 2017 the official launch of Tmall World, targeting the 100 million-strong overseas Chinese market with 1.2 billion products offered by brands and merchants through its flagship social commerce app Mobile Taobao and online platforms such as world.taobao.com.
Tmall Hey Box
Launched in 2017, Hey Box of Alibaba's Tmall is designed specifically to provide new product release marketing solutions to brands. 50 million new products were released on the Tmall platform in 2018.
Over 1.3 million new products from over 500 brands recommended by Tmall Hey Box to targeted consumers were eventually purchased, with a total transaction value of over 40 billion yuan.
New products launched via Tmall Hey Box are supposed to become best sellers and hit the industry benchmark from zero in 30 days.
Read the details here.
Tmall Luxury
Alibaba created Tmall Luxury Pavilion in 2017, where consumers can find the hottest new collections and services, while Luxury Soho stores, launched in 2020, are home to luxury deals, older collections, timeless classics and vintage collectibles.
New Retail
Tmall is a key part of Alibaba's New Retail strategy. It announced in 2018 that its New Retail technologies and solutions have helped INTERSPORT, one of the world's biggest sporting goods retailers, to transform its flagship store in China into the first New Retail Megastore.
Tmall Leverages Alibaba ecosystem:
What Tmall provides in its "New Retail" proposition is customer insights, supply chain management, retail technology, smart logistics, electronic payments, and O2O shopping integration.
It empowers offline stores with Interactive Window Display and AR Engagement, AI-Shopping Assistant and Smart Shoe Mirror, Smart Shelf and Cloud Shelf, and Virtual Shopping Bag and Delivery Services.
Shopping Festivals
China's e-commerce companies rely on a lot of festival marketing campaigns throughout the year. Top ones include Chinese New Year, 3-8 (Women's Day), Tmall 618, 99 (or Double Nine on 9 Sep), Double 11 in November, and Double 12 in December.
The biggest ones are Tmall 618 and Double 11.
Tmall Super Brand Day
Launched in 2015, Tmall's Super Brand Day is a marketing event that integrates resources across Alibaba's ecosystem to create a small version of Tmall Double 11 campaign for one brand.
In 2018, YSL Beauté set the new record for the most sales by a beauty brand in its first day of operations on Tmall by utilizing the Super Brand Day, generating more than RMB 30 million ($4.77 million) in sales in the first 14 hours and RMB 38 million by the end of the day. The store's followers rose to 1.2 million which has grown to 4.56 million in April 2019.