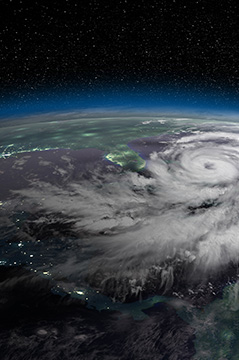 RELIEF
United Nations International Telecommunications Union (ITU)
Every second counts during disaster preparation and response, so any disruption of communications or delay in deploying equipment can cost lives. Iridium technologies can play a vital role in disaster preparation and response given their global reach, continuous coverage, and ability to perform regardless of the state of terrestrial infrastructure, which is often damaged by disasters.
Iridium is committed to creating solutions to assist with disaster warning, evacuation, disaster strike, first response, search and rescue, disaster assessment, and cleanup. Along with our partners, we are deploying many IoT applications that assist in environmental monitoring, disaster detection, and early warning, which allow residents to prepare or evacuate, and ultimately save lives. Our technology can be used to monitor water levels in rivers or lakes to support flood monitoring and alerting, for tsunami monitors in the oceans, or even to track supplies and personnel that are deployed to support a relief operation.
As part of our commitment to supporting disaster preparation and response, Iridium has donated 70 Iridium phones and unlimited free service on them to the United Nation's International Telecommunications Union (ITU). The ITU allocates global radio spectrum and develops the technical standards that ensure networks and technologies seamlessly interconnect, and strives to improve access to information and communication technologies (ICT) to communities worldwide. After disasters strike, the ITU assists and coordinates with other U.N. agencies and provides telecommunications means to disaster relief teams and organizations around the world.
Iridium Emergency Relief & Sponsorship Program
When disaster strikes, Iridium is there. We are proud to support communities impacted by natural disasters and other emergencies, as well as the organizations dedicated to helping rebuild. To achieve this, we have created an emergency relief satellite communications sponsorship program. Along with our partners, we are able to provide devices and free air-time to organizations working in impacted areas.*
Click Here for more information on our emergency response sponsorships.
*Sponsorships are available on a limited basis. Please read more at the link above.
Enabling Disaster Preparedness & Relief Solutions
We are proud to work with partners all over the world that use the Iridium network to develop solutions designed to detect, prevent, and provide relief following natural disasters.
Hurricane Relief
The Iridium network is independent of traditional terrestrial (ground) infrastructures. Our network can provide connectivity even when terrestrial networks are not available or experience outages. Government organizations, first responders, volunteer relief groups, reporters, and individuals rely on Iridium for critical communications following storms.
Tsunami Early Warning
Iridium and our partners deploy many applications that assist in disaster detection and early warning. Satellite IoT technology is used for tsunami monitors, like the DART stations, in the oceans by organizations like the National Oceanic and Atmospheric Administration (NOAA). These early warning systems allow residents to prepare for disasters or evacuate, ultimately saving lives.
First Response
Iridium is the go-to satellite solution for first responders – our devices support telemedicine in high-risk areas, critical communication and locational support for medivac rescues and supply drops, along with one-to-many communications for various first responder teams in emergency situations.
Climate Change Monitoring
Governments and environmental organizations deploy ocean profiling floats that rely on the Iridium network to transmit critical data from anywhere in the world. Floats measure ocean currents, temperatures, and salinity to help track climate change and the impact on the ocean, ultimately working to help address climate-related disasters. Click here to learn more about our sustainability efforts.