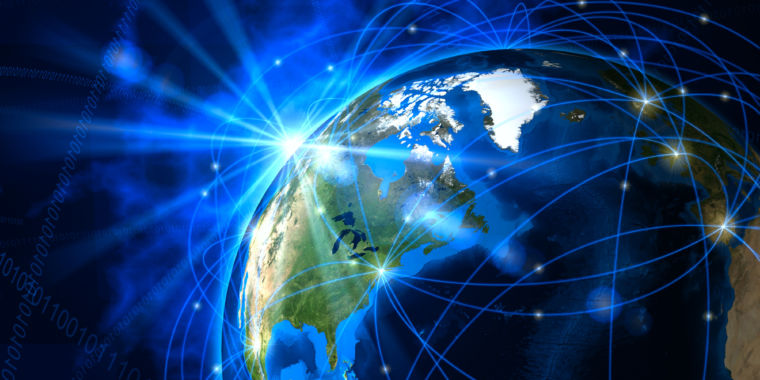 SpaceX has detailed ambitious plans to bring fast Internet access to the entire world with a new satellite system that offers greater speeds and lower latency than existing satellite networks.
The private spacecraft company founded by CEO Elon Musk filed an application Tuesday for satellite space station authorizations with the US Federal Communications Commission. SpaceX recently said that its satellite service's commercial availability date has not yet been determined, but the application's technical description mentioned 2019 as a possible time for launching satellites into orbit.
SpaceX wants to launch 4,425 satellites into low-Earth orbits, with altitudes ranging from 715 miles to 823 miles. By contrast, the existing HughesNet satellite network has an altitude of 22,000 miles.
SpaceX's plan for low orbits would greatly reduce latency. As we've previously written, current satellite Internet systems suffer from high latency, meaning that data packets must travel great distances between Earth and satellites, resulting in noticeable delays for Internet users.
SpaceX expects its own latencies to be between 25 and 35ms, similar to the latencies measured for wired Internet services. Current satellite ISPs have latencies of 600ms or more, according to FCC measurements.
Satellite Internet service is also made less useful today by low data caps. SpaceX promises that its satellites will boast impressive bandwidth, the amount of data that can be delivered each second. That could potentially reduce or eliminate the need to impose strict limits on consumers.
"Once fully optimized through the Final Deployment, the system will be able to provide high bandwidth (up to 1Gbps per user), low-latency broadband services for consumers and businesses in the US and globally," SpaceX told the FCC. "Subject to additional development work, SpaceX plans to design and manufacture its own satellites, gateway earth stations, and user terminals." Home Internet customers would receive a "low-profile user terminal that is easy to mount and operate on walls or roofs."
Each satellite will provide aggregate downlink capacity of 17 to 23Gbps, the application said. "With deployment of the first 800 satellites, the system will be able to provide US and international broadband connectivity; when fully deployed, the system will add capacity and availability at the equator and poles for truly global coverage," SpaceX said.
SpaceX said per-satellite bandwidth should increase periodically as the company deploys improvements. "The system leverages phased array technology to dynamically steer a large pool of beams to focus capacity where it is needed," the company said. "Optical inter-satellite links permit flexible routing of traffic on-orbit. Further, the constellation ensures that frequencies can be reused effectively across different satellites to enhance the flexibility and capacity and robustness of the overall system."
SpaceX will use frequencies between 10GHz and 30GHz, in the Ku and Ka bands. The company said it's designing everything "from the ground up" with the goals of cost-effectiveness and reliability.
There's a long way to go before SpaceX connects any Internet customers. But if the company achieves its goals, it could be a boon for consumers in rural areas who lack fast connectivity and customers anywhere else who want more competition. Musk has been working on the satellite Internet project for at least two years, and SpaceX received $1 billion in funding from Google and Fidelity Investments in January 2015 to support satellite manufacturing and space transport.
SpaceX supported its argument that the FCC should approve its application in part by pointing to increasing demand for data services and shortcomings in the broadband market that have left many US consumers with poor Internet access.
If you want more detail, here are links to SpaceX's application, technical description, and request for approval.