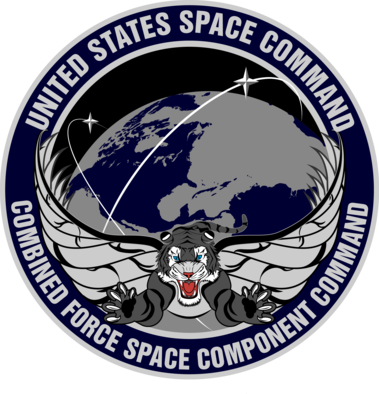 Combined Force Space Component Command Emblem
As directed by the Commander of U.S. Space Command (USSPACECOM), two subordinate commands were established Aug. 29, 2019, to support the warfighting efforts of the command – the Joint Task Force Space Defense (JTF-SD), and the Combined Force Space Component Command (CFSCC).
The CFSCC is commanded by Maj. Gen. John Shaw with a mission to plan, integrate, conduct, and assess global space operations in order to deliver combat relevant space capabilities to Combatant Commanders, Coalition partners, the Joint Force, and the Nation. CFSCC plans and executes space operations through four (4) distinct and geographically dispersed operations centers, including: Combined Space Operations Center (CSpOC) at Vandenberg AFB, CA; Missile Warning Center (MWC) at Cheyenne Mountain Air Force Station, CO; Joint Overhead Persistent Infrared Planning Center (JOPC) at Buckley AFB, CO; and Joint Navigation Warfare Center (JNWC) located at Kirtland AFB, NM. Additionally, the CFSCC executes tactical control over globally dispersed Air Force, Army, and Navy space units that command ground-based space capabilities and satellites in every orbital regime.
CFSCC is co-located with the Combined Space Operations Center at Vandenberg Air Force Base in California.
As one of its primary roles, CFSCC plans, tasks, directs, monitors, and assess the execution of combined and joint space operations for theater effects on behalf of the Commander of USSPACECOM in order to directly integrate with ongoing operations in other Combatant Commands. The CFSCC also provides support to, and receives support from, partner Coalition operations centers including the Australian Space Operations Center (AUSSpOC), Canadian Space Operations Center (CANSpOC), and United Kingdom Space Operations Center (UKSpOC). Additionally, the CFSCC builds capacity through Coalition, Commercial, and Civil partnerships to achieve combined force objectives.
The CFSCC provides space capabilities such as space situational awareness, space electronic warfare, satellite communications, missile warning, nuclear detonation detection, environmental monitoring, military Intelligence, Surveillance and Reconnaissance (ISR), navigation warfare, command and control, and Positioning, Navigation and Timing (PNT) in support of USSPACECOM and the other Combatant Commands. CFSCC also executes command and control of assigned multinational forces in support of Operation Olympic Defender, as directed by USSPACECOM.
The United States and partner nations unequivocally recognize the strategic importance the space domain has on our economies, technology, national security and defense. To that end, we collectively share the view that military cooperation concerning the space domain is vital to our countries' interests. Our respective nations are actively working together to address threats and shared interests in space; and to preserve access to the space domain for the defense of our nations and the future of humankind.