[216 Pages Report] The global maritime satellite communication market size is expected to grow from USD 2.3 billion in 2020 to USD 3.2 billion by 2025, at a Compound Annual Growth Rate (CAGR) of 7.1% during the forecast period. Escalating need for enriched data communication to improve operation efficiency, on-board security and surveillance, and employee/passenger welfare in the maritime industry is driving the market. Furthermore, The major factor driving the maritime satellite communication market is the need to attain improved connectivity between the land and sea operations and realizing benefits in faster repair times, preventative maintenance, fuel-saving, and real-time navigation.
COVID-19 impact on the maritime satellite communication market
COVID-19 is an infectious disease caused by the most recently discovered novel coronavirus. Largely unknown before its outbreak began in Wuhan, China, in December 2019, COVID-19 moved from being a regional crisis to a global pandemic in just a few weeks. The World Health Organization (WHO) declared COVID-19 as a pandemic on March 11, 2020
The rapid spread of COVID-19 worldwide has had a significant impact on global markets. The World Trade Organization predicts that "world trade is expected to fall by between 13% and 32% in 2020 as the COVID- 19 pandemic disrupts normal economic activity and life around the world".
The shipping industry, at the forefront of international trade, enabling 90% of world trade at roughly USD 12 trillion, is facing large scale disruptions, the likes of which hasn't been seen in decades.
Due to the nature of the shipping industry being heavily dependent on travel and human interaction, it has been impacted materially both directly and indirectly from the outbreak of the COVID-19 pandemic.
Maritime Satellite Communication Market Dynamics
Driver: Increased technology advancements and less expensive technology solutions
The technology innovation in the maritime industry is flourishing market growth. High-Throughput Satellites (HTS) using Ku-band are being launched in the market. Technology developments are advancing at a fast pace. These developments include gyro-stabilized ground terminals, high-speed broadband modems, multi-frequency dish antennas, and an all-plastic design that would be more resilient to harsh environmental conditions offshore. The oil and gas sector has been using C-band services, while the shipping and maritime industry has leaned more towards Ku-band for its specific needs.
Restraint:  Lack of awareness about advanced maritime satellite services
The maritime satellite communication market comprises a range of communication service offerings provided mainly through L-band, Ku-band, and Ka-band frequency-based satellite communication services, which support communication across the globe. Satellite services are the enabler of voice and data communications at sea. Knowing a vessel's route and operating area is one of the key factors in choosing the type of communication band and services. However, customers do not understand the technical aspects of the frequency bands used in satellite communication and may tend to choose wrong frequency bands, which can lower productivity.
Opportunity: Increasing demand for broadband connections and VSAT connectivity
With the rising availability of satellite services offering Ku-band or Ka-band for VSAT, the demand for broadband connections and greater bandwidth is increasing. Demand growth is driven by crew welfare, seafarers, and passengers using their own devices on ships, and the increasing appetite for operational data processing and analysis. Lower satellite capacity pricing is paving the way for the adoption of broadband VSAT. The demand for data is continuously growing as satellite operators are increasing their capacity for maritime markets. With more supply pushing bandwidth costs lower, end users are responding by ramping up their demand for VSAT connectivity across all segments, including merchant, passenger, offshore (oil and gas), and fishing.
Challenge: lack of reliability and flexibility of satellite communication
To serve the evolving demands of the overall maritime sector, wherein end-users have vast differences in their communications needs, service providers would need even more capacity, coverage, performance, and flexibility. Moreover, they must have the ability to scale networks to meet customer demands quickly. With the increasing usage of technologies in maritime satellite, customers are finding difficulties in operating satellite solutions. Sometimes, maritime satellite vendors fail to provide reliable communication solutions; as a result, communication equipment and services do not perform effectively under unfavorable weather conditions. Therefore, there is a challenge for satellite communication service providers to provide reliable communication to their customers irrespective of the weather conditions.
Merchant Shipping segment to hold the largest market size during the forecast period
In recent years, satellite communication technology has become advanced, which enables ships to communicate through satellite links from anywhere globally without the help of a specialist radio officer. This technological advancement helps merchants gain higher profit through reliable communication services that maintain operational efficiency. The recent developments in satellite communication, such as Ka-band and Ku-band in VSAT, facilitate the marine industry to communicate at a lower cost, and provide access to weather information, position reports, and safety messages without incurring higher communication cost.
APAC to hold the largest market size during the forecast period
Many countries in the APAC region are likely to adopt maritime satellite communication solutions owing to high demands, specifically in the oil and gas, merchant shipping, mining, and passenger shipping verticals. The APAC region is implementing maritime satellite communication solutions significantly. The maritime satellite technology has been adopted in this region to incorporate advanced communication networks to communicate with employees, such as crew working at remote offshore locations. At present, end-users such as offshore vessels, merchant shipping, and government are extensively implementing advanced maritime satellite communication offerings.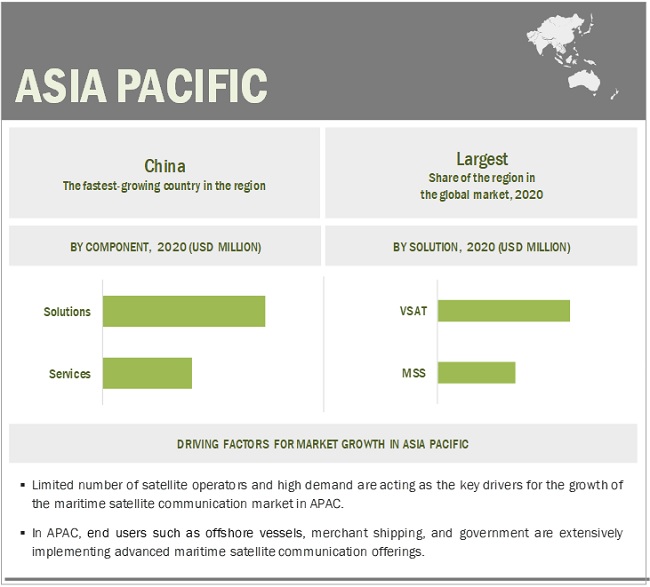 Key Market Players
The global maritime satellite communication market includes players, such as Inmarsat (UK), Iridium Communications (US), Thuraya (UAE), Hughes Network Systems (US), and KVH Industries (US).
Scope of the report:
| | |
| --- | --- |
| Report Metric | Details |
| Market size available for years | 2016–2025 |
| Base year considered | 2019 |
| Forecast period | 2020–2025 |
| Forecast units | Value (USD) |
| Segments covered | Component (solutions and services), solutions (VSAT and MSS), services (Tracking and monitoring, voice, video, and data), end-user (merchant shipping, fishing, passenger ships, leisure vessel, offshore, government, and others (manufacturing and construction)) |
| Geographies covered | North America, APAC, MEA, and Latin America |
| Companies covered | Inmarsat (UK), Iridium Communications (US), Thuraya (UAE), Hughes Network Systems (US), KVH Industries (US), Viasat (US), Speedcast (Australia), ST Engineering (Singapore), NSSLGlobal (England), Marlink (France), ORBOCOMM (US), Navarino (Greece), Network Innovations (Canada), GTMaritime (England), AST Group (UK), Isotropic Networks (Wisconsin), Norsat International (Ontario), Satcom Global (Canada), Intelsat (US), and Orbit Communication Systems (Israel) |
The research report categorizes the maritime satellite communication market based on the component, solution, service, end user, and region.
By Component
By Solution
VSAT
Mobile Satellite Service (MSS)
By Service
Tracking and monitoring
Voice
Video
Data
By End User:
Merchant Shipping
Fishing
Passenger Ships
Leisure Vessel
Offshore
Government
Others (manufacturing and construction)
By region:
North America
Europe
APAC
MEA
Latin America
Recent Developments:
In February 2020, Inmarsat launched connectivity services in Saudi Arabia across land, sea, and air.
In January 2020, Inmarsat and ITC Global have announced a five-year strategic collaboration. The partnership enables the organizations to combine their highly complementary, market-leading services to offer broadband connectivity, paired with high-value connectivity solutions to customers in the maritime, yachting, and offshore energy sectors.
Frequently Asked Questions (FAQ):
Satellite communication can be defined as direct communication between devices. This communication is possible with the help of satellites used as communication channels, wherein data is transmitted through satellite networks from remote locations and allows users to respond to the information received. The main beneficiaries of satellite communication are maritime operators, broadcasters, oil and gas companies, and mining operators.Maritime satellite communication plays a vital role in the global economy, providing reliable and secure communication critical to businesses. With maritime satellite communication, the headquarters of shipping companies can communicate with their fleets to enable real-time ship monitoring, navigation, and surveillance.
The maritime satellite communication market is expected to grow from USD 2.3 billion in 2020 to USD 3.2 billion by 2025.
The global maritime satellite communication market is projected to register a moderate 7.1% CAGR in the forecast period.
The merchant shipping segment is likely to witness the highest growth during the forecast period.
Inmarsat, Iridium Communications, Thuraya, Hughes Network Systems, KVH Industries, Viasat, Speedcast, ST Engineering, NSSLGlobal, Marlink, ORBOCOMM, Navarino, Network Innovations, GTMaritime, AST Group, Isotropic Networks, Norsat International, Satcom Global, Intelsat, and Orbit Communication Systems
To speak to our analyst for a discussion on the above findings, click Speak to Analyst
TABLE OF CONTENTS
1 INTRODUCTION (Page No. – 21)
    1.1 INTRODUCTION TO COVID-19
    1.2 COVID-19 HEALTH ASSESSMENT
        FIGURE 1 COVID-19: THE GLOBAL PROPAGATION
        FIGURE 2 COVID-19 PROPAGATION: SELECT COUNTRIES
    1.3 COVID-19 ECONOMIC ASSESSMENT
        FIGURE 3 REVISED GROSS DOMESTIC PRODUCT FORECASTS FOR SELECT G20 COUNTRIES IN 2020
           1.3.1 COVID-19 ECONOMIC IMPACT—SCENARIO ASSESSMENT
                 FIGURE 4 CRITERIA IMPACTING THE GLOBAL ECONOMY
                 FIGURE 5 SCENARIOS IN TERMS OF RECOVERY OF THE GLOBAL ECONOMY
    1.4 OBJECTIVES OF THE STUDY
    1.5 MARKET DEFINITION
           1.5.1 INCLUSIONS AND EXCLUSIONS
    1.6 MARKET SCOPE
           1.6.1 MARKET SEGMENTATION
           1.6.2 YEARS CONSIDERED FOR THE STUDY
    1.7 CURRENCY CONSIDERED
        TABLE 1 UNITED STATES DOLLAR EXCHANGE RATE, 2017-2019
    1.8 STAKEHOLDERS
2 RESEARCH METHODOLOGY (Page No. – 30)
    2.1 RESEARCH DATA
        FIGURE 6 MARITIME SATELLITE COMMUNICATION MARKET: RESEARCH DESIGN
           2.1.1 SECONDARY DATA
           2.1.2 PRIMARY DATA
                    2.1.2.1 Breakup of primary profiles
    2.2 MARKET BREAKUP AND DATA TRIANGULATION
    2.3 MARKET SIZE ESTIMATION
        FIGURE 7 MARKET SIZE ESTIMATION METHODOLOGY—APPROACH 1 (SUPPLY SIDE): REVENUE OF COMPONENTS OF THE MARKET
        FIGURE 8 MARKET SIZE ESTIMATION METHODOLOGY—APPROACH 1—BOTTOM-UP (SUPPLY SIDE): COLLECTIVE REVENUE OF ALL OFFERINGS OF THE MARKET
        FIGURE 9 MARKET SIZE ESTIMATION METHODOLOGY—APPROACH 2—TOP-DOWN (DEMAND SIDE): SHARE OF THE MARITIME SATELLITE COMMUNICATION MARKET THROUGH VENDOR OFFERINGS
    2.4 MARKET FORECAST
        TABLE 2 FACTOR ANALYSIS
    2.5 COMPETITIVE LEADERSHIP MAPPING METHODOLOGY
        FIGURE 10 COMPETITIVE LEADERSHIP MAPPING: CRITERIA WEIGHTAGE
    2.6 ASSUMPTIONS FOR THE STUDY
    2.7 LIMITATIONS OF THE STUDY
3 EXECUTIVE SUMMARY (Page No. – 38)
  FIGURE 11 MARITIME SATELLITE COMMUNICATION MARKET TO WITNESS STEADY GROWTH DURING THE FORECAST PERIOD
  FIGURE 12 LEADING SEGMENTS IN THE MARKET IN 2020
  FIGURE 13 MARKET: REGIONAL SCENARIO
  FIGURE 14 MARKET, TOP THREE SEGMENTS, 2020
  FIGURE 15 SOLUTIONS SEGMENT TO HOLD A HIGHER MARKET SHARE IN 2020
4 PREMIUM INSIGHTS (Page No. – 42)
    4.1 ATTRACTIVE OPPORTUNITIES IN THE MARITIME SATELLITE COMMUNICATION MARKET
        FIGURE 16 INTRODUCTION OF LESS EXPENSIVE TECHNOLOGIES AND NEED FOR ENRICHED DATA COMMUNICATION DRIVING THE MARKET GROWTH
    4.2 MARKET, BY COMPONENT AND REGION
        FIGURE 17 SOLUTIONS SEGMENT AND ASIA PACIFIC TO HOLD HIGH MARKET SHARES IN 2020
    4.3 MARKET, BY REGION
        FIGURE 18 ASIA PACIFIC TO GROW AT THE HIGHEST CAGR DURING THE FORECAST PERIOD
    4.4 MARKET: INVESTMENT SCENARIO
        FIGURE 19 NORTH AMERICA AND ASIA PACIFIC TO EMERGE AS THE BEST MARKETS FOR INVESTMENTS OVER THE NEXT FIVE YEARS
5 MARKET OVERVIEW AND INDUSTRY TRENDS (Page No. – 45)
    5.1 MARKET DYNAMICS
        FIGURE 20 DRIVERS, RESTRAINTS, OPPORTUNITIES, AND CHALLENGES: MARITIME SATELLITE COMMUNICATION MARKET
           5.1.1 DRIVERS
                    5.1.1.1 New satellite systems and data-intensive applications to drive the growth of the market
                    5.1.1.2 Increased technology advancements and less expensive technology solutions
                    5.1.1.3 Growth in bandwidth requirements and communication needs
           5.1.2 RESTRAINTS
                    5.1.2.1 Lack of awareness about advanced maritime satellite services
                    5.1.2.2 Reliance on high-cost satellite equipment
           5.1.3 OPPORTUNITIES
                    5.1.3.1 Increasing demand for broadband connections and VSAT connectivity
                    5.1.3.2 High-throughput satellites to unlock cloud and IoT services
                    5.1.3.3 Unification of satellites and cellular communication technology
           5.1.4 CHALLENGES
                    5.1.4.1 Increasing cybersecurity attacks
                    5.1.4.2 Lack of reliability and flexibility of satellite communication
                    5.1.4.3 Coping up with rapidly changing technologies
    5.2 INDUSTRY USE CASES
           5.2.1 USE CASE 1: INMARSAT GLOBAL XPRESS HELPED EUKOR CAR CARRIERS FOR ITS FLEET OF 27 VESSELS
           5.2.2 USE CASE 2: THURAYA HELPED DEVOR TECHNOLOGIES TO BRING RELIABLE, HIGH-SPEED INTERNET CONNECTION TO OFFSHORE MARITIME OPERATOR
           5.2.3 USE CASE 3: VIASAT HELPED M/Y STARFIRE IN DELIVERING HIGH-SPEED CONNECTIVITY TO SUPPORT LUXURY GUEST EXPERIENCE
           5.2.4 USE CASE 4: NSSLGLOBAL HELPED MOL LNG BY PROVIDING RELIABLE SERVICES FOR MANAGING FLEET OF 15 LNG CARRIERS
    5.3 IMPACT OF DISRUPTIVE TECHNOLOGIES
           5.3.1 INTERNET OF THINGS
           5.3.2 5G
6 COVID-19 IMPACT ON MARITIME SATELLITE COMMUNICATION MARKET (Page No. – 53)
    6.1 COVID-19 IMPACT—MARITIME SATELLITE COMMUNICATION
7 MARITIME SATELLITE COMMUNICATION MARKET, BY COMPONENT (Page No. – 54)
    7.1 INTRODUCTION
           7.1.1 COMPONENT: MARKET DRIVERS
           7.1.2 COMPONENT: MARITIME SATELLITE COMMUNICATION VENDOR INITIATIVES AND DEVELOPMENTS
                 FIGURE 21 SOLUTIONS SEGMENT TO GROW AT A HIGHER CAGR DURING THE FORECAST PERIOD
                 TABLE 3 MARKET SIZE, BY COMPONENT, 2016–2018 (USD MILLION)
                 TABLE 4 MARKET SIZE, BY COMPONENT, 2019–2025 (USD MILLION)
    7.2 SOLUTIONS
        TABLE 5 SOLUTIONS: MARKET SIZE, BY REGION, 2016–2018 (USD MILLION)
        TABLE 6 SOLUTIONS: MARKET SIZE, BY REGION, 2019–2025 (USD MILLION)
        TABLE 7 SOLUTIONS: NORTH AMERICA MARKET SIZE, BY COUNTRY, 2019–2025 (USD MILLION)
        TABLE 8 SOLUTIONS: ASIA PACIFIC MARKET SIZE, BY COUNTRY, 2019–2025 (USD MILLION)
    7.3 SERVICES
        TABLE 9 SERVICES: MARKET SIZE, BY REGION, 2016–2018 (USD MILLION)
        TABLE 10 SERVICES: MARKET SIZE, BY REGION, 2019–2025 (USD MILLION)
        TABLE 11 SERVICES: NORTH AMERICA MARKET SIZE, BY COUNTRY, 2019–2025 (USD MILLION)
        TABLE 12 SERVICES: ASIA PACIFIC MARKET SIZE, BY COUNTRY, 2019–2025 (USD MILLION)
8 MARITIME SATELLITE COMMUNICATION MARKET, BY SOLUTION (Page No. – 61)
    8.1 INTRODUCTION
           8.1.1 SOLUTIONS: MARKET DRIVERS
           8.1.2 SOLUTIONS: MARITIME SATELLITE COMMUNICATION VENDOR INITIATIVES AND DEVELOPMENTS
                 FIGURE 22 VSAT SEGMENT TO GROW AT A HIGHER CAGR DURING THE FORECAST PERIOD
                 TABLE 13 MARKET SIZE, BY SOLUTION, 2016–2018 (USD MILLION)
                 TABLE 14 MARKET SIZE, BY SOLUTION,  2019–2025 (USD MILLION)
    8.2 VERY SMALL APERTURE TERMINAL
        TABLE 15 VERY SMALL APERTURE TERMINAL: MARITIME SATELLITE COMMUNICATION SOLUTIONS MARKET SIZE, BY REGION, 2016–2018 (USD MILLION)
        TABLE 16 VERY SMALL APERTURE TERMINAL: MARITIME SATELLITE COMMUNICATION SOLUTIONS MARKET SIZE, BY REGION, 2019–2025 (USD MILLION)
        TABLE 17 VERY SMALL APERTURE TERMINAL: NORTH AMERICA MARITIME SATELLITE COMMUNICATION SOLUTIONS MARKET SIZE, BY COUNTRY, 2019–2025 (USD MILLION)
        TABLE 18 VERY SMALL APERTURE TERMINAL: ASIA PACIFIC MARITIME SATELLITE COMMUNICATION SOLUTIONS MARKET SIZE, BY COUNTRY, 2019–2025 (USD MILLION)
           8.2.1 VERY SMALL APERTURE TERMINAL, BY FREQUENCY BAND
                 TABLE 19 VERY SMALL APERTURE TERMINAL MARKET SIZE, BY FREQUENCY BAND, 2016–2018 (USD MILLION)
                 TABLE 20 VERY SMALL APERTURE TERMINAL MARKET SIZE, BY FREQUENCY BAND, 2019–2025 (USD MILLION)
                    8.2.1.1 Ka-band
                            TABLE 21 KA-BAND MARKET SIZE, BY REGION, 2016–2018 (USD MILLION)
                            TABLE 22 KA-BAND MARKET SIZE, BY REGION, 2019–2025 (USD MILLION)
                    8.2.1.2 Ku-band
                            TABLE 23 KU-BAND MARKET SIZE, BY REGION, 2016–2018 (USD MILLION)
                            TABLE 24 KU-BAND MARKET SIZE, BY REGION, 2019–2025 (USD MILLION)
                    8.2.1.3 C-band
                            TABLE 25 C-BAND MARKET SIZE, BY REGION, 2016–2018 (USD MILLION)
                            TABLE 26 C-BAND MARKET SIZE, BY REGION, 2019–2025 (USD MILLION)
    8.3 MOBILE SATELLITE SERVICES
        TABLE 27 MOBILE SATELLITE SERVICES: MARITIME SATELLITE COMMUNICATION SOLUTIONS MARKET SIZE, BY REGION, 2016–2018 (USD MILLION)
        TABLE 28 MOBILE SATELLITE SERVICES: MARITIME SATELLITE COMMUNICATION SOLUTIONS MARKET SIZE, BY REGION, 2019–2025 (USD MILLION)
        TABLE 29 MOBILE SATELLITE SERVICES: NORTH AMERICA MARITIME SATELLITE COMMUNICATION SOLUTIONS MARKET SIZE, BY COUNTRY, 2019–2025 (USD MILLION)
        TABLE 30 MOBILE SATELLITE SERVICES: MARITIME SATELLITE COMMUNICATION SOLUTIONS MARKET SIZE, BY COUNTRY, 2019–2025 (USD MILLION)
9 MARITIME SATELLITE COMMUNICATION MARKET, BY SERVICE (Page No. – 72)
    9.1 INTRODUCTION
           9.1.1 SERVICES: MARKET DRIVERS
           9.1.2 SERVICES: MARITIME SATELLITE COMMUNICATION VENDOR INITIATIVES AND DEVELOPMENTS
                 FIGURE 23 TRACKER AND MONITORING SEGMENT TO GROW AT THE HIGHEST CAGR DURING THE FORECAST PERIOD
                 TABLE 31 MARKET SIZE, BY SERVICE, 2016–2018 (USD MILLION)
                 TABLE 32 MARKET SIZE, BY SERVICE, 2019–2025 (USD MILLION)
    9.2 TRACKING AND MONITORING
        TABLE 33 TRACKING AND MONITORING: MARITIME SATELLITE COMMUNICATION SERVICES MARKET SIZE, BY REGION, 2016–2018 (USD MILLION)
        TABLE 34 TRACKING AND MONITORING: MARITIME SATELLITE COMMUNICATION SERVICES MARKET SIZE, BY REGION, 2019–2025 (USD MILLION)
        TABLE 35 TRACKING AND MONITORING: NORTH AMERICA MARITIME SATELLITE COMMUNICATION SERVICES MARKET SIZE, BY COUNTRY, 2019–2025 (USD MILLION)
        TABLE 36 TRACKING AND MONITORING: ASIA PACIFIC MARITIME SATELLITE COMMUNICATION SERVICES MARKET SIZE, BY COUNTRY, 2019–2025 (USD MILLION)
    9.3 VOICE
        TABLE 37 VOICE: MARITIME SATELLITE COMMUNICATION SERVICES MARKET SIZE, BY REGION, 2016–2018 (USD MILLION)
        TABLE 38 VOICE: MARITIME SATELLITE COMMUNICATION SERVICES MARKET SIZE, BY REGION, 2019–2025 (USD MILLION)
        TABLE 39 VOICE: NORTH AMERICA MARITIME SATELLITE COMMUNICATION SERVICES MARKET SIZE, BY COUNTRY, 2019–2025 (USD MILLION)
        TABLE 40 VOICE: ASIA PACIFIC MARITIME SATELLITE COMMUNICATION SERVICES MARKET SIZE, BY COUNTRY, 2019–2025 (USD MILLION)
    9.4 VIDEO
        TABLE 41 VIDEO: MARITIME SATELLITE COMMUNICATION SERVICES MARKET SIZE, BY REGION, 2016–2018 (USD MILLION)
        TABLE 42 VIDEO: MARITIME SATELLITE COMMUNICATION SERVICES MARKET SIZE, BY REGION, 2019–2025 (USD MILLION)
        TABLE 43 VIDEO: NORTH AMERICA MARITIME SATELLITE COMMUNICATION SERVICES MARKET SIZE, BY COUNTRY, 2019–2025 (USD MILLION)
        TABLE 44 VIDEO: ASIA PACIFIC MARITIME SATELLITE COMMUNICATION SERVICES MARKET SIZE, BY COUNTRY, 2019–2025 (USD MILLION)
    9.5 DATA
        TABLE 45 DATA: MARITIME SATELLITE COMMUNICATION SERVICES MARKET SIZE, BY REGION, 2016–2018 (USD MILLION)
        TABLE 46 DATA: MARITIME SATELLITE COMMUNICATION SERVICES MARKET SIZE, BY REGION, 2019–2025 (USD MILLION)
        TABLE 47 DATA: NORTH AMERICA MARITIME SATELLITE COMMUNICATION SERVICES MARKET SIZE, BY COUNTRY, 2019–2025 (USD MILLION)
        TABLE 48 DATA: ASIA PACIFIC MARITIME SATELLITE COMMUNICATION SERVICES MARKET SIZE, BY COUNTRY, 2019–2025 (USD MILLION)
10 MARITIME SATELLITE COMMUNICATION MARKET, BY END USER (Page No. – 83)
     10.1 INTRODUCTION
          FIGURE 24 MERCHANT SHIPPING SEGMENT TO HOLD THE HIGHEST MARKET SHARE DURING THE FORECAST PERIOD
             10.1.1 END USER: MARKET DRIVERS
             10.1.2 END USER: MARITIME SATELLITE COMMUNICATION VENDOR INITIATIVES AND DEVELOPMENTS
                    TABLE 49 MARKET SIZE, BY END USER, 2016–2018 (USD MILLION)
                    TABLE 50 MARKET SIZE, BY END USER, 2019–2025 (USD MILLION)
     10.2 MERCHANT SHIPPING
          TABLE 51 MERCHANT SHIPPING: MARKET SIZE, BY REGION, 2016–2018 (USD MILLION)
          TABLE 52 MERCHANT SHIPPING: MARKET SIZE, BY REGION, 2019–2025 (USD MILLION)
          TABLE 53 MERCHANT SHIPPING: NORTH AMERICA MARKET SIZE, BY COUNTRY, 2019–2025 (USD MILLION)
          TABLE 54 MERCHANT SHIPPING: ASIA PACIFIC MARKET SIZE, BY COUNTRY, 2019–2025 (USD MILLION)
     10.3 FISHING
          TABLE 55 FISHING: MARITIME SATELLITE COMMUNICATION MARKET SIZE, BY REGION, 2016–2018 (USD MILLION)
          TABLE 56 FISHING: MARKET SIZE, BY REGION, 2019–2025 (USD MILLION)
          TABLE 57 FISHING: NORTH AMERICA MARKET SIZE, BY COUNTRY, 2019–2025 (USD MILLION)
          TABLE 58 FISHING: ASIA PACIFIC MARKET SIZE, BY COUNTRY, 2019–2025 (USD MILLION)
     10.4 PASSENGER SHIPS
          TABLE 59 PASSENGER SHIPS: MARKET SIZE, BY REGION, 2016–2018 (USD MILLION)
          TABLE 60 PASSENGER SHIPS: MARKET SIZE, BY REGION, 2019–2025 (USD MILLION)
          TABLE 61 PASSENGER SHIPS: NORTH AMERICA MARKET SIZE, BY COUNTRY, 2019–2025 (USD MILLION)
          TABLE 62 PASSENGER SHIPS: ASIA PACIFIC MARKET SIZE, BY COUNTRY, 2019–2025 (USD MILLION)
     10.5 LEISURE VESSEL
          TABLE 63 LEISURE VESSEL: MARKET SIZE, BY REGION, 2016–2018 (USD MILLION)
          TABLE 64 LEISURE VESSEL: MARKET SIZE, BY REGION, 2019–2025 (USD MILLION)
          TABLE 65 LEISURE VESSEL: NORTH AMERICA MARITIME SATELLITE COMMUNICATION MARKET SIZE, BY COUNTRY, 2019–2025 (USD MILLION)
          TABLE 66 LEISURE VESSEL: ASIA PACIFIC MARKET SIZE, BY COUNTRY, 2019–2025 (USD MILLION)
     10.6 OFFSHORE
          TABLE 67 OFFSHORE: MARKET SIZE, BY REGION, 2016–2018 (USD MILLION)
          TABLE 68 OFFSHORE: MARKET SIZE, BY REGION, 2019–2025 (USD MILLION)
          TABLE 69 OFFSHORE: NORTH AMERICA MARKET SIZE, BY COUNTRY, 2019–2025 (USD MILLION)
          TABLE 70 OFFSHORE: ASIA PACIFIC MARKET SIZE, BY COUNTRY, 2019–2025 (USD MILLION)
     10.7 GOVERNMENT
          TABLE 71 GOVERNMENT: MARKET SIZE, BY REGION, 2016–2018 (USD MILLION)
          TABLE 72 GOVERNMENT: MARKET SIZE, BY REGION, 2019–2025 (USD MILLION)
          TABLE 73 GOVERNMENT: NORTH AMERICA MARITIME SATELLITE COMMUNICATION MARKET SIZE, BY COUNTRY, 2019–2025 (USD MILLION)
          TABLE 74 GOVERNMENT: ASIA PACIFIC MARKET SIZE, BY COUNTRY, 2019–2025 (USD MILLION)
     10.8 OTHERS
          TABLE 75 OTHERS: MARKET SIZE, BY REGION, 2016–2018 (USD MILLION)
          TABLE 76 OTHERS: MARKET SIZE, BY REGION, 2019–2025 (USD MILLION)
          TABLE 77 OTHERS: NORTH AMERICA MARKET SIZE, BY COUNTRY, 2019–2025 (USD MILLION)
          TABLE 78 OTHERS: ASIA PACIFIC MARKET SIZE, BY COUNTRY, 2019–2025 (USD MILLION)
11 MARITIME SATELLITE COMMUNICATION MARKET, BY REGION (Page No. – 100)
     11.1 INTRODUCTION
          FIGURE 25 ASIA PACIFIC TO GROW AT THE HIGHEST CAGR DURING THE FORECAST PERIOD
          TABLE 79 MARKET SIZE, BY REGION, 2016–2018 (USD MILLION)
          TABLE 80 MARKET SIZE, BY REGION, 2019–2025 (USD MILLION)
     11.2 NORTH AMERICA
             11.2.1 NORTH AMERICA: MARITIME SATELLITE COMMUNICATION MARKET DRIVERS
             11.2.2 NORTH AMERICA: MARITIME SATELLITE COMMUNICATION VENDOR INITIATIVES AND DEVELOPMENTS
             11.2.3 NORTH AMERICA: MARITIME SATELLITE COMMUNICATION COVID-19 IMPACT
                    TABLE 81 NORTH AMERICA: MARKET SIZE, BY COMPONENT, 2016–2018 (USD MILLION)
                    TABLE 82 NORTH AMERICA: MARKET SIZE, BY COMPONENT, 2019–2025 (USD MILLION)
                    TABLE 83 NORTH AMERICA: MARKET SIZE, BY SOLUTION, 2016–2018 (USD MILLION)
                    TABLE 84 NORTH AMERICA: MARKET SIZE, BY SOLUTION, 2019–2025 (USD MILLION)
                    TABLE 85 NORTH AMERICA: VSAT MARKET SIZE, BY FREQUENCY BAND, 2016–2018 (USD MILLION)
                    TABLE 86 NORTH AMERICA: VSAT MARKET SIZE, BY FREQUENCY BAND, 2019–2025 (USD MILLION)
                    TABLE 87 NORTH AMERICA: MARKET SIZE, BY SERVICE, 2016–2018 (USD MILLION)
                    TABLE 88 NORTH AMERICA: MARKET SIZE, BY SERVICE, 2019–2025 (USD MILLION)
                    TABLE 89 NORTH AMERICA: MARKET SIZE, BY END USER, 2016–2018 (USD MILLION)
                    TABLE 90 NORTH AMERICA: MARKET SIZE, BY END USER, 2019–2025 (USD MILLION)
                    TABLE 91 NORTH AMERICA: MARKET SIZE, BY COUNTRY, 2016–2018 (USD MILLION)
                    TABLE 92 NORTH AMERICA: MARKET SIZE, BY COUNTRY, 2019–2025 (USD MILLION)
             11.2.4 UNITED STATES
                    TABLE 93 UNITED STATES: MARITIME SATELLITE COMMUNICATION MARKET SIZE, BY COMPONENT, 2016–2018 (USD MILLION)
                    TABLE 94 UNITED STATES: MARKET SIZE,  BY COMPONENT, 2019–2025 (USD MILLION)
                    TABLE 95 UNITED STATES: MARKET SIZE, BY SOLUTION, 2016–2018 (USD MILLION)
                    TABLE 96 UNITED STATES: MARKET SIZE, BY SOLUTION, 2019–2025 (USD MILLION)
                    TABLE 97 UNITED STATES: VSAT MARKET SIZE, BY FREQUENCY BAND, 2016–2018 (USD MILLION)
                    TABLE 98 UNITED STATES: VSAT MARKET SIZE, BY FREQUENCY BAND, 2019–2025 (USD MILLION)
                    TABLE 99 UNITED STATES: MARKET SIZE, BY SERVICE, 2016–2018 (USD MILLION)
                    TABLE 100 UNITED STATES: MARKET SIZE, BY SERVICE, 2019–2025 (USD MILLION)
                    TABLE 101 UNITED STATES: MARKET SIZE, BY END USER, 2016–2018 (USD MILLION)
                    TABLE 102 UNITED STATES: MARKET SIZE, BY END USER, 2019–2025 (USD MILLION)
             11.2.5 CANADA
                    TABLE 103 CANADA: MARITIME SATELLITE COMMUNICATION MARKET SIZE, BY COMPONENT, 2016–2018 (USD MILLION)
                    TABLE 104 CANADA: MARKET SIZE, BY COMPONENT, 2019–2025 (USD MILLION)
                    TABLE 105 CANADA: MARKET SIZE, BY SOLUTION, 2016–2018 (USD MILLION)
                    TABLE 106 CANADA: MARKET SIZE, BY SOLUTION, 2019–2025 (USD MILLION)
                    TABLE 107 CANADA: VSAT MARKET SIZE, BY FREQUENCY BAND, 2016–2018 (USD MILLION)
                    TABLE 108 CANADA: VSAT MARKET SIZE, BY FREQUENCY BAND, 2019–2025 (USD MILLION)
                    TABLE 109 CANADA: MARKET SIZE, BY SERVICE, 2016–2018 (USD MILLION)
                    TABLE 110 CANADA: MARKET SIZE, BY SERVICE, 2019–2025 (USD MILLION)
                    TABLE 111 CANADA: MARKET SIZE, BY END USER, 2016–2018 (USD MILLION)
                    TABLE 112 CANADA: MARKET SIZE, BY END USER, 2019–2025 (USD MILLION)
     11.3 EUROPE
             11.3.1 EUROPE: MARITIME SATELLITE COMMUNICATION MARKET DRIVERS
             11.3.2 EUROPE: MARITIME SATELLITE COMMUNICATION VENDOR INITIATIVES AND DEVELOPMENTS
             11.3.3 EUROPE: MARITIME SATELLITE COMMUNICATION COVID-19 IMPACT
                    FIGURE 26 EUROPE: MARKET SNAPSHOT
                    TABLE 113 EUROPE: MARKET SIZE, BY COMPONENT, 2016–2018 (USD MILLION)
                    TABLE 114 EUROPE: MARKET SIZE, BY COMPONENT, 2019–2025 (USD MILLION)
                    TABLE 115 EUROPE: MARKET SIZE, BY SOLUTION, 2016–2018 (USD MILLION)
                    TABLE 116 EUROPE: MARKET SIZE, BY SOLUTION, 2019–2025 (USD MILLION)
                    TABLE 117 EUROPE: VSAT MARKET SIZE, BY FREQUENCY BAND, 2016–2018 (USD MILLION)
                    TABLE 118 EUROPE: VSAT MARKET SIZE, BY FREQUENCY BAND, 2019–2025 (USD MILLION)
                    TABLE 119 EUROPE: MARKET SIZE, BY SERVICE, 2016–2018 (USD MILLION)
                    TABLE 120 EUROPE: MARKET SIZE, BY SERVICE, 2019–2025 (USD MILLION)
                    TABLE 121 EUROPE: MARKET SIZE, BY END USER, 2016–2018 (USD MILLION)
                    TABLE 122 EUROPE: MARKET SIZE, BY END USER, 2019–2025 (USD MILLION)
                    TABLE 123 EUROPE: MARKET SIZE, BY COUNTRY, 2016–2018 (USD MILLION)
                    TABLE 124 EUROPE: MARKET SIZE, BY COUNTRY, 2019–2025 (USD MILLION)
             11.3.4 UNITED KINGDOM
                    TABLE 125 UNITED KINGDOM: MARITIME SATELLITE COMMUNICATION MARKET SIZE, BY COMPONENT, 2016–2018 (USD MILLION)
                    TABLE 126 UNITED KINGDOM: MARKET SIZE, BY COMPONENT, 2019–2025 (USD MILLION)
                    TABLE 127 UNITED KINGDOM: MARKET SIZE, BY SOLUTION, 2016–2018 (USD MILLION)
                    TABLE 128 UNITED KINGDOM: MARKET SIZE, BY SOLUTION, 2019–2025 (USD MILLION)
                    TABLE 129 UNITED KINGDOM: VSAT MARKET SIZE, BY FREQUENCY BAND, 2016–2018 (USD MILLION)
                    TABLE 130 UNITED KINGDOM: VSAT MARKET SIZE, BY FREQUENCY BAND, 2019–2025 (USD MILLION)
                    TABLE 131 UNITED KINGDOM: MARKET SIZE, BY SERVICE, 2016–2018 (USD MILLION)
                    TABLE 132 UNITED KINGDOM: MARKET SIZE, BY SERVICE, 2019–2025 (USD MILLION)
                    TABLE 133 UNITED KINGDOM: MARKET SIZE, BY END USER, 2016–2018 (USD MILLION)
                    TABLE 134 UNITED KINGDOM: MARKET SIZE, BY END USER, 2019–2025 (USD MILLION)
             11.3.5 GERMANY
                    TABLE 135 GERMANY: MARITIME SATELLITE COMMUNICATION MARKET SIZE, BY COMPONENT, 2016–2018 (USD MILLION)
                    TABLE 136 GERMANY: MARKET SIZE, BY COMPONENT, 2019–2025 (USD MILLION)
                    TABLE 137 GERMANY: MARKET SIZE, BY SOLUTION, 2016–2018 (USD MILLION)
                    TABLE 138 GERMANY: MARKET SIZE, BY SOLUTION, 2019–2025 (USD MILLION)
                    TABLE 139 GERMANY: VSAT MARKET SIZE, BY FREQUENCY BAND, 2016–2018 (USD MILLION)
                    TABLE 140 GERMANY: VSAT MARKET SIZE, BY FREQUENCY BAND, 2019–2025 (USD MILLION)
                    TABLE 141 GERMANY: MARKET SIZE, BY SERVICE, 2016–2018 (USD MILLION)
                    TABLE 142 GERMANY: MARKET SIZE, BY SERVICE, 2019–2025 (USD MILLION)
                    TABLE 143 GERMANY: MARKET SIZE, BY END USER, 2016–2018 (USD MILLION)
                    TABLE 144 GERMANY: MARKET SIZE, BY END USER, 2019–2025 (USD MILLION)
             11.3.6 REST OF EUROPE
                    TABLE 145 REST OF EUROPE: MARITIME SATELLITE COMMUNICATION MARKET SIZE, BY COMPONENT, 2016–2018 (USD MILLION)
                    TABLE 146 REST OF EUROPE: MARKET SIZE, BY COMPONENT, 2019–2025 (USD MILLION)
                    TABLE 147 REST OF EUROPE: MARKET SIZE, BY SOLUTION, 2016–2018 (USD MILLION)
                    TABLE 148 REST OF EUROPE: MARKET SIZE, BY SOLUTION, 2019–2025 (USD MILLION)
                    TABLE 149 REST OF EUROPE: VSAT MARKET SIZE, BY FREQUENCY BAND, 2016–2018 (USD MILLION)
                    TABLE 150 REST OF EUROPE: VSAT MARKET SIZE, BY FREQUENCY BAND, 2019–2025 (USD MILLION)
                    TABLE 151 REST OF EUROPE: MARKET SIZE, BY SERVICE, 2016–2018 (USD MILLION)
                    TABLE 152 REST OF EUROPE: MARKET SIZE, BY SERVICE, 2019–2025 (USD MILLION)
                    TABLE 153 REST OF EUROPE: MARKET SIZE, BY END USER, 2016–2018 (USD MILLION)
                    TABLE 154 REST OF EUROPE: MARKET SIZE, BY END USER, 2019–2025 (USD MILLION)
     11.4 ASIA PACIFIC
             11.4.1 ASIA PACIFIC: MARITIME SATELLITE COMMUNICATION MARKET DRIVERS
             11.4.2 ASIA PACIFIC: MARITIME SATELLITE COMMUNICATION VENDOR INITIATIVES AND DEVELOPMENTS
             11.4.3 ASIA PACIFIC: MARITIME SATELLITE COMMUNICATION COVID-19 IMPACT
                    FIGURE 27 ASIA PACIFIC: MARKET SNAPSHOT
                    TABLE 155 ASIA PACIFIC: MARKET SIZE, BY COMPONENT, 2016–2018 (USD MILLION)
                    TABLE 156 ASIA PACIFIC: MARKET SIZE, BY COMPONENT, 2019–2025 (USD MILLION)
                    TABLE 157 ASIA PACIFIC: MARKET SIZE, BY SOLUTION, 2016–2018 (USD MILLION)
                    TABLE 158 ASIA PACIFIC: MARKET SIZE, BY SOLUTION, 2019–2025 (USD MILLION)
                    TABLE 159 ASIA PACIFIC: VSAT MARKET SIZE, BY FREQUENCY BAND, 2016–2018 (USD MILLION)
                    TABLE 160 ASIA PACIFIC: VSAT MARKET SIZE, BY FREQUENCY BAND, 2019–2025 (USD MILLION)
                    TABLE 161 ASIA PACIFIC: MARKET SIZE, BY SERVICE, 2016–2018 (USD MILLION)
                    TABLE 162 ASIA PACIFIC: MARKET SIZE, BY SERVICE, 2019–2025 (USD MILLION)
                    TABLE 163 ASIA PACIFIC: MARKET SIZE, BY END USER, 2016–2018 (USD MILLION)
                    TABLE 164 ASIA PACIFIC: MARKET SIZE, BY END USER, 2019–2025 (USD MILLION)
                    TABLE 165 ASIA PACIFIC: MARKET SIZE, BY COUNTRY, 2016–2018 (USD MILLION)
                    TABLE 166 ASIA PACIFIC: MARKET SIZE, BY COUNTRY, 2019–2025 (USD MILLION)
             11.4.4 CHINA
                    TABLE 167 CHINA: MARITIME SATELLITE COMMUNICATION MARKET SIZE, BY COMPONENT, 2016–2018 (USD MILLION)
                    TABLE 168 CHINA: MARKET SIZE, BY COMPONENT, 2019–2025 (USD MILLION)
                    TABLE 169 CHINA: MARKET SIZE, BY SOLUTION, 2016–2018 (USD MILLION)
                    TABLE 170 CHINA: MARKET SIZE, BY SOLUTION, 2019–2025 (USD MILLION)
                    TABLE 171 CHINA: VSAT MARKET SIZE, BY FREQUENCY BAND, 2016–2018 (USD MILLION)
                    TABLE 172 CHINA: VSAT MARKET SIZE, BY FREQUENCY BAND, 2019–2025 (USD MILLION)
                    TABLE 173 CHINA: MARKET SIZE, BY SERVICE, 2016–2018 (USD MILLION)
                    TABLE 174 CHINA: MARKET SIZE, BY SERVICE, 2019–2025 (USD MILLION)
                    TABLE 175 CHINA: MARKET SIZE, BY END USER, 2016–2018 (USD MILLION)
                    TABLE 176 CHINA: MARKET SIZE, BY END USER, 2019–2025 (USD MILLION)
             11.4.5 JAPAN
                    TABLE 177 JAPAN: MARITIME SATELLITE COMMUNICATION MARKET SIZE, BY COMPONENT, 2016–2018 (USD MILLION)
                    TABLE 178 JAPAN: MARKET SIZE, BY COMPONENT, 2019–2025 (USD MILLION)
                    TABLE 179 JAPAN: MARKET SIZE, BY SOLUTION, 2016–2018 (USD MILLION)
                    TABLE 180 JAPAN: MARKET SIZE, BY SOLUTION, 2019–2025 (USD MILLION)
                    TABLE 181 JAPAN: VSAT MARKET SIZE, BY FREQUENCY BAND, 2016–2018 (USD MILLION)
                    TABLE 182 JAPAN: VSAT MARKET SIZE, BY FREQUENCY BAND, 2019–2025 (USD MILLION)
                    TABLE 183 JAPAN: MARKET SIZE, BY SERVICE, 2016–2018 (USD MILLION)
                    TABLE 184 JAPAN: MARKET SIZE, BY SERVICE, 2019–2025 (USD MILLION)
                    TABLE 185 JAPAN: MARKET SIZE, BY END USER, 2016–2018 (USD MILLION)
                    TABLE 186 JAPAN: MARKET SIZE, BY END USER, 2019–2025 (USD MILLION)
             11.4.6 REST OF ASIA PACIFIC
                    TABLE 187 REST OF ASIA PACIFIC: MARITIME SATELLITE COMMUNICATION MARKET SIZE, BY COMPONENT, 2016–2018 (USD MILLION)
                    TABLE 188 REST OF ASIA PACIFIC: MARKET SIZE, BY COMPONENT, 2019–2025 (USD MILLION)
                    TABLE 189 REST OF ASIA PACIFIC: MARKET SIZE, BY SOLUTION, 2016–2018 (USD MILLION)
                    TABLE 190 REST OF ASIA PACIFIC: MARKET SIZE, BY SOLUTION, 2019–2025 (USD MILLION)
                    TABLE 191 REST OF ASIA PACIFIC: VSAT MARKET SIZE, BY FREQUENCY BAND, 2016–2018 (USD MILLION)
                    TABLE 192 REST OF ASIA PACIFIC: VSAT MARKET SIZE, BY FREQUENCY BAND, 2019–2025 (USD MILLION)
                    TABLE 193 REST OF ASIA PACIFIC: MARKET SIZE, BY SERVICE, 2016–2018 (USD MILLION)
                    TABLE 194 REST OF ASIA PACIFIC: MARKET SIZE, BY SERVICE, 2019–2025 (USD MILLION)
                    TABLE 195 REST OF ASIA PACIFIC: MARKET SIZE, BY END USER, 2016–2018 (USD MILLION)
                    TABLE 196 REST OF ASIA PACIFIC: MARKET SIZE, BY END USER, 2019–2025 (USD MILLION)
     11.5 MIDDLE EAST AND AFRICA
             11.5.1 MIDDLE EAST AND AFRICA: MARITIME SATELLITE COMMUNICATION MARKET DRIVERS
             11.5.2 MIDDLE EAST AND AFRICA: MARITIME SATELLITE COMMUNICATION VENDOR INITIATIVES AND DEVELOPMENTS
             11.5.3 MIDDLE EAST AND AFRICA: MARITIME SATELLITE COMMUNICATION COVID-19 IMPACT
                    TABLE 197 MIDDLE EAST AND AFRICA: MARKET SIZE, BY COMPONENT, 2016–2018 (USD MILLION)
                    TABLE 198 MIDDLE EAST AND AFRICA: MARKET SIZE, BY COMPONENT, 2019–2025 (USD MILLION)
                    TABLE 199 MIDDLE EAST AND AFRICA: MARKET SIZE, BY SOLUTION, 2016–2018 (USD MILLION)
                    TABLE 200 MIDDLE EAST AND AFRICA: MARKET SIZE, BY SOLUTION, 2019–2025 (USD MILLION)
                    TABLE 201 MIDDLE EAST AND AFRICA: VSAT MARKET SIZE, BY FREQUENCY BAND, 2016–2018 (USD MILLION)
                    TABLE 202 MIDDLE EAST AND AFRICA: VSAT MARKET SIZE, BY FREQUENCY BAND, 2019–2025 (USD MILLION)
                    TABLE 203 MIDDLE EAST AND AFRICA: MARITIME SATELLITE COMMUNICATION MARKET SIZE, BY SERVICE, 2016–2018 (USD MILLION)
                    TABLE 204 MIDDLE EAST AND AFRICA: MARKET SIZE, BY SERVICE, 2019–2025 (USD MILLION)
                    TABLE 205 MIDDLE EAST AND AFRICA: MARKET SIZE, BY END USER, 2016–2018 (USD MILLION)
                    TABLE 206 MIDDLE EAST AND AFRICA: MARKET SIZE, BY END USER, 2019–2025 (USD MILLION)
                    TABLE 207 MIDDLE EAST AND AFRICA: MARKET SIZE, BY COUNTRY, 2016–2018 (USD MILLION)
                    TABLE 208 MIDDLE EAST AND AFRICA: MARKET SIZE, BY COUNTRY, 2019–2025 (USD MILLION)
             11.5.4 UNITED ARAB EMIRATES
             11.5.5 KINGDOM OF SAUDI ARABIA
             11.5.6 REST OF MIDDLE EAST AND AFRICA
     11.6 LATIN AMERICA
             11.6.1 LATIN AMERICA: MARITIME SATELLITE COMMUNICATION MARKET DRIVERS
             11.6.2 LATIN AMERICA: MARITIME SATELLITE COMMUNICATION VENDOR INITIATIVES AND DEVELOPMENTS
             11.6.3 LATIN AMERICA: MARITIME SATELLITE COMMUNICATION COVID-19 IMPACT
                    TABLE 209 LATIN AMERICA: MARKET SIZE, BY COMPONENT, 2016–2018 (USD MILLION)
                    TABLE 210 LATIN AMERICA: MARKET SIZE, BY COMPONENT, 2019–2025 (USD MILLION)
                    TABLE 211 LATIN AMERICA: MARKET SIZE, BY SOLUTION, 2016–2018 (USD MILLION)
                    TABLE 212 LATIN AMERICA: MARKET SIZE, BY SOLUTION, 2019–2025 (USD MILLION)
                    TABLE 213 LATIN AMERICA: VSAT MARKET SIZE, BY FREQUENCY BAND, 2016–2018 (USD MILLION)
                    TABLE 214 LATIN AMERICA: VSAT MARKET SIZE, BY FREQUENCY BAND, 2019–2025 (USD MILLION)
                    TABLE 215 LATIN AMERICA: MARKET SIZE, BY SERVICE, 2016–2018 (USD MILLION)
                    TABLE 216 LATIN AMERICA: MARKET SIZE, BY SERVICE, 2019–2025 (USD MILLION)
                    TABLE 217 LATIN AMERICA: MARKET SIZE, BY END USER, 2016–2018 (USD MILLION)
                    TABLE 218 LATIN AMERICA: MARKET SIZE, BY END USER, 2019–2025 (USD MILLION)
                    TABLE 219 LATIN AMERICA: MARKET SIZE, BY COUNTRY, 2016–2018 (USD MILLION)
                    TABLE 220 LATIN AMERICA: MARKET SIZE, BY COUNTRY, 2019–2025 (USD MILLION)
             11.6.4 BRAZIL
             11.6.5 MEXICO
             11.6.6 REST OF LATIN AMERICA
12 COMPETITIVE LANDSCAPE (Page No. – 165)
     12.1 INTRODUCTION
     12.2 COMPETITIVE LEADERSHIP MAPPING
          TABLE 221 EVALUATION CRITERIA
             12.2.1 VISIONARY LEADERS
             12.2.2 DYNAMIC DIFFERENTIATORS
             12.2.3 INNOVATORS
             12.2.4 EMERGING COMPANIES
                    FIGURE 28 MARITIME SATELLITE COMMUNICATION MARKET (GLOBAL), COMPETITIVE LEADERSHIP MAPPING, 2020
     12.3 STRENGTH OF PRODUCT PORTFOLIO
          FIGURE 29 PRODUCT PORTFOLIO ANALYSIS OF TOP PLAYERS IN THE MARKET
     12.4 BUSINESS STRATEGY EXCELLENCE
          FIGURE 30 BUSINESS STRATEGY EXCELLENCE OF TOP PLAYERS IN THE MARKET
     12.5 RANKING OF KEY PLAYERS
          FIGURE 31 RANKING OF KEY PLAYERS IN THE MARITIME SATELLITE COMMUNICATION MARKET, 2020
13 COMPANY PROFILES (Page No. – 171)
     13.1 INTRODUCTION
(Business Overview, Solutions & Services, Key Insights, Recent Developments, SWOT Analysis)*
     13.2 INMARSAT
          FIGURE 32 INMARSAT: COMPANY SNAPSHOT
          FIGURE 33 INMARSAT: SWOT ANALYSIS
     13.3 IRIDIUM COMMUNICATIONS
          FIGURE 34 IRIDIUM COMMUNICATIONS: COMPANY SNAPSHOT
          FIGURE 35 IRIDIUM COMMUNICATIONS: SWOT ANALYSIS
     13.4 THURAYA
          FIGURE 36 THURAYA: SWOT ANALYSIS
     13.5 HUGHES NETWORK SYSTEMS
          FIGURE 37 HUGHES NETWORK SYSTEMS: SWOT ANALYSIS
     13.6 KHV INDUSTRIES
          FIGURE 38 KVH INDUSTRIES: COMPANY SNAPSHOT
          FIGURE 39 KVH INDUSTRIES: SWOT ANALYSIS
     13.7 VIASAT
          FIGURE 40 VIASAT: COMPANY SNAPSHOT
     13.8 SPEEDCAST
          FIGURE 41 SPEEDCAST: COMPANY SNAPSHOT
     13.9 ST ENGINEERING
          FIGURE 42 ST ENGINEERING: COMPANY SNAPSHOT
     13.10 NSSLGLOBAL
     13.11 MARLINK
     13.12 ORBCOMM
     13.13 NAVARINO
     13.14 NETWORK INNOVATIONS
     13.15 GTMARITIME
     13.16 AST GROUP
     13.17 ISOTROPIC NETWORKS
     13.18 NORSAT INTERNATIONAL
     13.19 SATCOM GLOBAL
     13.20 INTELSAT
     13.21 ORBIT COMMUNICATION SYSTEMS
*Details on Business Overview, Solutions & Services, Key Insights, Recent Developments, SWOT Analysis might not be captured in case of unlisted companies.
     13.22 RIGHT-TO-WIN
14 APPENDIX (Page No. – 211)
     14.1 DISCUSSION GUIDE
     14.2 KNOWLEDGE STORE: MARKETSANDMARKETS' SUBSCRIPTION PORTAL
     14.3 AVAILABLE CUSTOMIZATIONS
     14.4 RELATED REPORTS
     14.5 AUTHOR DETAILS