Demand for meetings and events is on the rise. According to the recently released CWT Meetings & Events 2019 Meetings & Events Future Trends report, the meetings market will see an increase of five to 10 percent in 2019. 
"The global meetings and events industry can look forward to a buoyant 2019," said Kurt Ekert, president and CEO of Carlson Wagonlit Travel (CWT). "On top of growing demand worldwide, we also expect global hotel rates to rise 3.7 percent, and flight prices 2.6 percent."
In most regions, meeting attendance numbers are also projected to grow, with a 14 percent increase predicted for North America. However, in the tech sector, the smaller roadshow model is also on the rise to provide more customized, experiential events.
The report examines the current global outlook for events, including ranking the top destinations for meetings and events within each region. It also includes top industry trends identified by CWT's research plus insights and ideas to help event organizers hold successful meetings. 
Contents include:
Global landscape
Regional forecast
Ground transportation
Venue trends
Meeting technology
Attendee experience
Strategic meetings management (SMM)
Attendee experience is top of mind for planners, whether it's delivered and tracked through innovative applications of technology, unique venues or "festivalization," more engaging and interactive content or memorable moments. 
SMM is predicted to gain traction in regions outside North America, where it is more mature. The data shows that SMM can cut the time spent on sourcing by 22 percent and deliver an average 19 percent additional savings on room nights.
"SMM tips the scales back in favor of clients by shifting sales towards preferred suppliers and analyzing demand to work out the optimum times to secure the best venues, hotels and flights – and lock in the best prices," said Cindy Fisher, senior vice president and global head for CWT Meetings & Events.
From a practical standpoint, key insights include planning ahead to do more with a smaller budget; booking space last minute means forfeiting potential savings — as much as 10 percent on average. Small groups are recommended to have everything booked for their meetings a minimum of one month in advance, with at least two and a half months' notice for larger events.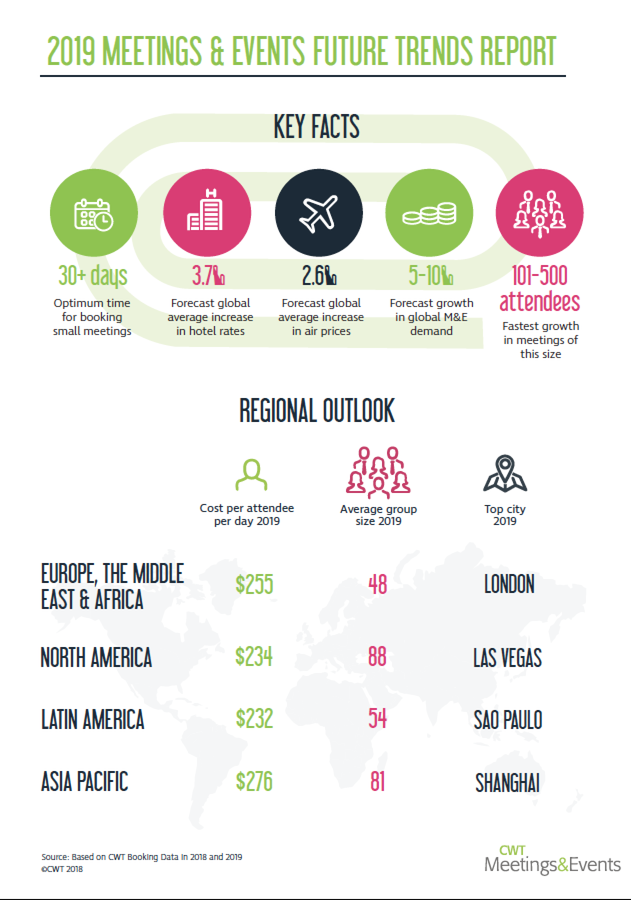 To read the full report, go HERE. 
Don't miss any event news! Sign up for any (or all) of our e-newsletters HERE & engage with us on Twitter, Facebook, LinkedIn & Instagram!